Data Recovery Raid
Why do you need to recover data from RAID?
Data Recovery Raid Because of the importance of data, companies have been using multi array RAID systems to store their critical data extensively. It is important to know that RAID systems may be fault tolerant but they are also not fault proof. While most commercial RAID implementations can tolerate the loss of a single hard drive, failure of multiple hard drives and any other fault. With so much critical data stored in it, once the data lost due to deletion, accidental format, partition error, software crash, virus attack, hard drive repartition, etc, because data cannot be recovered by fault tolerant of RAID, data recovery is very important for companies. So it is necessary to know which case can Data Recovery Raid with data recovery software.
Which case can Data Recovery Raid with data recovery software?
Data on a RAID array becomes inaccessible due to any of the following reasons:
1. Deleted files, even if you emptied files from the Recycle Bin.
2. Accidentally formatted, even if you have reinstalled Windows.
3. The file system of the hard drive became RAW.
4. Windows Operating System crashed.
5. Accidentally deleted the partition or the partition lost.
6. Hard drive was repartitioned.
7. Partition error.
8. Accidentally shut down the computer or remove external device.
9. Software crash, virus attack, hacker attack, etc.
The above problems can be easily solved by EaseUS Data Recovery Wizard with a fast and efficient raid recovery.
How to recover data from RAID with EaseUS Data Recovery Wizard?
EaseUS Data Recovery Wizard can support hardware-based RAID (RAID0, RAID1, RAID5, RAID10, etc.), while only EaseUS Data Recovery Wizard Professional can support software-based RAID (dynamic hard disk).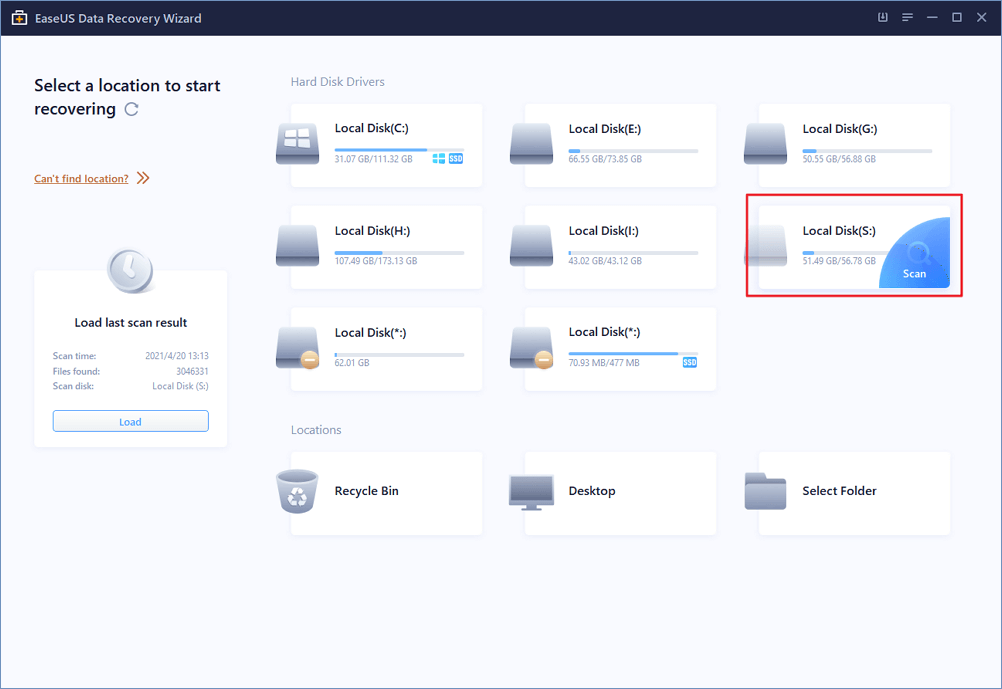 Is there anything I should pay special attention after data loss on RAID?
The following suggestion you should pay special attention to after data loss.
1. Keep RAID array intact.
2. Don't do anything (overwrite/format) to your RAID partition on which you lost data.
3. Don't install data recovery software to your RAID partition which you want to recover data from.
4. Save the recovered data to other RAID partition which you don't want to recover data from.
5. If your operating system crashed, you can create a bootable CD of Data Recovery Wizard to recover data from RAID.
 RAID Data Recovery Information
What is RAID?
RAID is an acronym for Redundant Array of Inexpensive Disks. It is a method of combining several hard disk drives into one unit. This method offers fault tolerance (the ability of a system to continue to perform functions even when one or more hard disk drives have failed) and higher protection against data loss than a single hard drive.
Need for RAID?
RAID provides real-time data recovery when a hard drive fails, increasing system uptime and network availability while protecting against loss of data. Another advantage of the system is that multiple disks working together increase overall system performance. Any individual or company could benefit from having a RAID RECOVERY system in place.
Different Levels of RAID
There are several different levels of RAID available. Each level offers various advantages in terms of data availability, cost and performance. Your best bet is to assess your needs in order to determine which level works best for you.
There are number of different RAID levels:
Level 0 — Striped Disk Array without Fault Tolerance: Provides data striping (spreading out blocks of each file across multiple disk drives) but no redundancy. This improves performance but does not deliver fault tolerance. If one drive fails then all data in the array is lost.
Level 1 — Mirroring and Duplexing: Provides disk mirroring. Level 1 provides twice the read transaction rate of single disks and the same write transaction rate as single disks.
Level 2 — Error-Correcting Coding: Not a typical implementation and rarely used, Level 2 stripes data at the bit level rather than the block level.
Level 3 — Bit-Interleaved Parity: Provides byte-level striping with a dedicated parity disk. Level 3, which cannot service simultaneous multiple requests, also is rarely used.
Level 4 — Dedicated Parity Drive: A commonly used implementation of RAID, Level 4 provides block-level striping (like Level 0) with a parity disk. If a data disk fails, the parity data is used to create a replacement disk. A disadvantage to Level 4 is that the parity disk can create write bottlenecks.
Level 5 — Block Interleaved Distributed Parity: Provides data striping at the byte level and also stripe error correction information. This results in excellent performance and good fault tolerance. Level 5 is one of the most popular implementations of RAID.
Level 6 — Independent Data Disks with Double Parity: Provides block-level striping with parity data distributed across all disks.
Level 0+1 — A Mirror of Stripes: Not one of the original RAID levels, two RAID 0 stripes are created, and a RAID 1 mirror is created over them. Used for both replicating and sharing data among disks.
Level 10 — A Stripe of Mirrors: Not one of the original RAID levels, multiple RAID 1 mirrors are created, and a RAID 0 stripe is created over these.
Level 7 — A trademark of Storage Computer Corporation that adds caching to Levels 3 or 4.
RAID S — EMC Corporation's proprietary striped parity RAID system used in its Symmetrix storage systems.